Ticket Booth & Broadway Pier Departures
990 North Harbor Drive
San Diego, CA 92101
(619) 234-4111
---
Parking Options
Metered Parking: $1.75 per hour (3 hour maximum)
USS Midway Parking Lot: $10 (up to 12 hours), open 24/7


910 N. Harbor Drive

B Street Pier Parking Lot:

Open to public when cruise ships are not in port.

$12 - $16 (up to 12 hours), $18 - $24 (up to 24 hours).

Buses & motorhomes,

$20 every four hours




1140 N. Harbor Drive

Spring Hill Suites & Residence Inn: $30 (Monday through Friday in by 10am out by 6pm)
For more information, visit the Port of San Diego Parking Map
All parking rates and information subject to change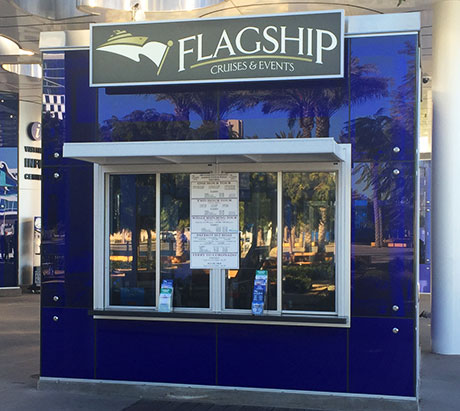 Helpful Tips:
Unlike most San Diego meters, the ones by our pier extend to 3 hours, which gives you plenty of time for the full harbor tour.
After 8pm, the meters are free. Great for dinner cruises: arrive at 6:45, feed the meter for an hour and 15 minutes and you'll be set all night!
The Midway lot is cheapest option for all-day parking
Take an Uber and get dropped off right at the gate!
Public Transportation
Train & Trolley (We are just two blocks from the Santa Fe Depot Train Station & Trolley Stop)
Taxi, Pedicab & Drop-offs: Ask for the Broadway Pier
The Summer Big Bay Shuttle Service runs from Downtown San Diego to the Embarcadero and Harbor Island. Learn More